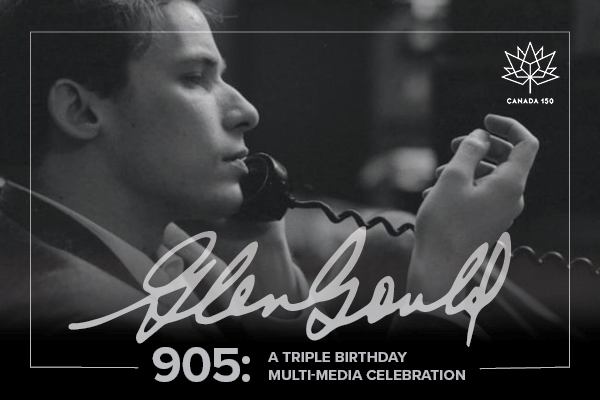 Praise for Glenn Gould 905:

"What a lovely experience!  You gave Glenn a wonderful present.  I would not in the least be surprised to learn that he was there.  I'll bet he loved the performance as well.  I strongly suspect you'll all be doing it again, in the not too distant future.  It deserves a repeat, actually many repeats!" – Lorne Tulk, Glenn Gould friend & CBC technician

---

"Thank you for inviting me to your outstanding celebration of Glenn Gould's music and life. I know he was there, not only in his music which all of you played so eloquently but also in spirit." – Marianna Schroeder, Nurse from The Idea of North
A celebration of three special birthdays: The Chamber Music Society of Mississauga's 20th, Glenn Gould's 85th and Canada's 150th.
This unique event, created by Dr. Penny Johnson, combines live musical performances with archived audio and video footage courtesy of the Glenn Gould Estate.  Program includes works by Bach, Beethoven, Strauss, Schoenberg and Shostakovich.
Featuring a special performance by Steinway Spirio.
Performing in this celebration: Dr. Penny Johnson, piano and the professional CMSM/MSO chamber musicians Corey Gemmell, violin, Peggy Hills, violin, Nicholas Papadakis, viola and  Mary Katherine Finch, cello (all Mississauga Symphony Principal Players). Also on the program will be the Mississauga Symphony's Assistant Conductor, Jennifer Tung, soprano.
Contact: pmviolin@gmail.com
Sponsored by:
Photo Credit:  Don Hunstein photo courtesy of Sony Music and the Glenn Gould Estate.