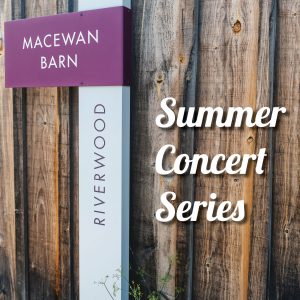 The Chamber Music Society of Mississauga and Culture@Riverwood presents:
LIVE in the GARDENS of Riverwood
Join us for our FREE Summer Concert Series at Riverwood Conservancy.
All concerts begin at 8pm in the MacEwan Barn. Free admission. Bring your own lawn chair and bug spray.
---
Wednesday, July 25 – VC2 Ensemble – Bryan Holt, cello and Amahl Arulanandam, cello
Wednesday, August 1 – Sharlene Wallace, harp and George Koller, double bass
Wednesday, August 15  – Ton Beau String Quartet
Wednesday, August 22  – Selections from the Marriage of Figaro by W. A. Mozart – in concert with members of the Mississauga Symphony Orchestra and singers conducted by Denis Mastromonaco.
Singers:
Count Almaviva – Evan Korbut, Baritone
Countess Rosina – Jonelle Sills, Soprano
Figaro – Gabrielle Sanchez Ortega, Bass-baritone
Susanna – Kimberley-Rose Pefhany, Soprano
Cherubino – Katerina Utochkina, Mezzo-soprano