OUR NIGHT SKY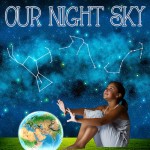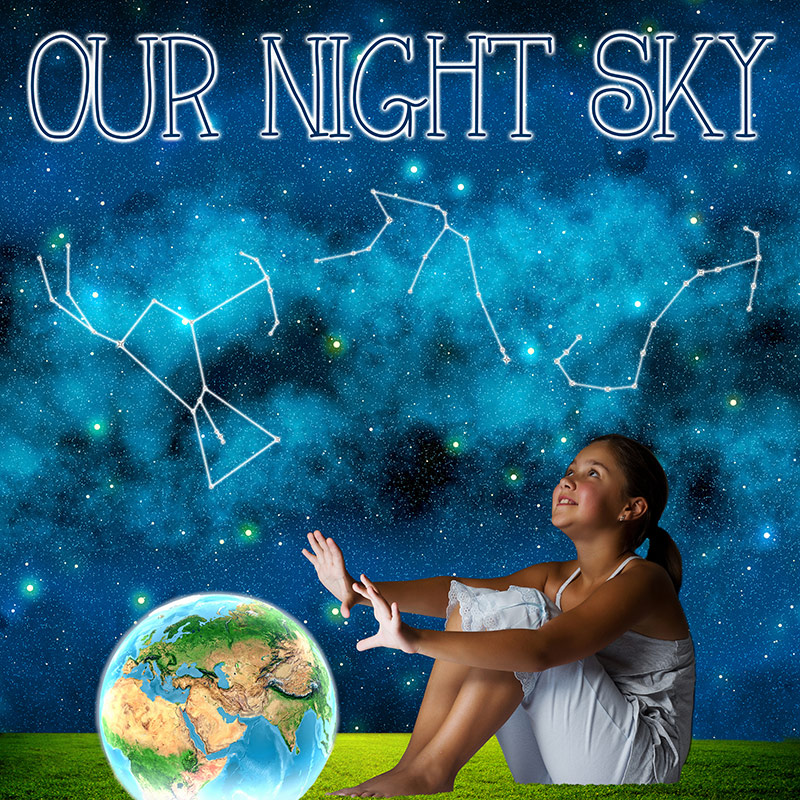 Inspired by the night sky above us all,"Our Night Sky"is a 50-minute show of storytelling and music. In "Our Night Sky",the narrator, who falls asleep under the night sky at her grandmother's farm, tells the story of a young girl exploring the night sky in her dreams as she remembers the stories from all over the world, that her grandmother told her. A CMSM professional chamber ensemble accompanies the narration. The musical score has been created by Mississauga composer, Michael Coghlan and the story that it accompanies has been created by a collaborative team of CMSM's Artistic Director, Peggy Hills, working with Randy Attwood of the Royal Astronomical Society of Mississauga, Angela Fusco, actor, Trish O'Reilly, actor and the performing musicians listed below.
CMSM is proud to introduce the narrators for "Our Night Sky", 13 year old Camille Labonté, singer, actor, guitarist, flute player and pianist, a member of the Mississauga Symphony Youth Orchestra and former member of the Toronto Children's Chorus and the Mississauga Children's Choir and Elise Mariah a sixteen-year-old singer/songwriter from Mississauga Ontario. In 2014 Elise was the ultimate winner at the Rotary Singfest Competition, as well represented Toronto in Talent Nation. She was crowned the winner of Mississauga's Got Talent in 2015, was chosen as one of sixty students worldwide to attend The Open Jar Institute for Broadway in NYC, as well was chosen as one of Canada's top emerging female artists at Honey Jam Canada.
Camille Labonté, narrator
Elise Mariah, narrator
Denis Mastromonaco, conductor
Sharlene Wallace, harp
David Myers, keyboard
Richard Moore, percussion
Ben Bolt-Martin, cello
Peggy Hills, violin
Barbara Croall, cedar flute
Subhadra Vijaykumar, carnatic violin
Kim Morris, western flute and Chinese flute
Michael Coghlan, synthesizer and composer
Reza Moghaddas, sound engineer
Setareh Delzendeh, videographer
Linda Thomas, production
Christina Birch, graphic design
Denise Oucharek, staging director
Performance from Monday, July 3, 2017.
---
PEGGY'S VIOLIN, A BUTTERFLY IN TIME
(available in English, French, Mandarin and Italian)
Our story begins in Milan, Italy in 1702, in the workshop of Giovanni Grancino and ends at the very moment that it is being told. The butterfly violin is not a world renowned Stradivarius, but it has a special voice and is often played by Peggy (McGuire) Hills in the second violin section of an ensemble or orchestra. It may not be the most expensive or famous violin in the world, but it is a wonderful instrument. Just like you, it has a beautiful voice, its own personality and an interesting story to tell.
String players' instruments are like an extension of themselves. Peggy's violin is very dear to her and goes everywhere with her. She has recounted parts of its story to her students many times over the past 30 years, but working with Barbara York in 1998 made it come alive for her in a new way. Now she wants to share her "little butterfly" violin and its story with you so that you can experience her journey.
Performed by a string quartet and narrator.
LE VIOLON DE PEGGY, UNE HISTOIRE DE PAPILLON
L'adaptation française du CD sélectionné aux Juno Peggy's Violin: A Butterfly in Time. « Le violon de Peggy : Une histoire de papillon » a pour voix celle de la narratrice québécoise Marie Hélène Fontaine, mise en nomination pour un Dora. Premier de notre nouvelle série de CD Concert-théâtre pour enfants, qui présente une combinaison d'histoires et de musique de chambre.
Le violon de Peggy est l'histoire fascinante et vraie du petit violon Giovanni Grancino, de sa naissance à Milan, en Italie, il y a trois cent ans à ce jour. Dans la grande tradition de notre série gros vendeur acclamée par la critique Enfants classiques (Beethoven habite à l'étage, Vivaldi : la clef du mystère), Le violon de Peggy combine de la musique classique fraîchement enregistrée et une histoire racontée avec conviction.
Recorded December 2011 in the Noel Ryan Auditorium.
---
THE STORYTELLER'S BAG
Inspired by some of the first inhabitants of Mississauga (Ontario), the Ojibway, two aboriginal actors and a chamber ensemble of strings, clarinet and percussion explore some old legends (The Muskrat's Dive, How the Loon Got Its Necklace,  and The Star Lily) with some new Canadian music written for young audiences. The title refers to the Ojibway tradition where each storyteller had a bag containing items that would serve as reminders of their stories.
Dramaturge by Mark Brownell
Music by Ronald Royer, Alexander Rapaport and Keith Bissell
Performers:
Cheri Maracle and Lorne Cardinal, actors;
Peggy Hills McGuire and Corey Gemmell, violins;
Bev Spotton, viola;
Marsha Moffitt, cello;
Rob Wolanski, bass;
Kaye Royer, clarinet; Richard Moore, percussion);
Children's Chorus directed by Anne Gardiner
---
CARPET OF DREAMS
Carpet of Dreams is a 50-minute show of storytelling, music and adventure, for young audiences created and produced by the Juno Award nominated, Chamber Music Society of Mississauga (CMSM). Tales of dragons, giant dievs, princes and princesses, a magic horse, a Shimorg and good deeds are included. The music, by young Canadian composer Kevin Lau, is scored for a chamber ensemble of clarinet/bass clarinet, violin, viola, cello, harp, percussion and traditional Persian instruments: taar, kamanche, santour and tombak. This show involves Middle Eastern musicians of the Shiraz Ensemble, actors and the CMSM musicians. The Carpet of Dreams musical score is a fusion of traditional Persian music and western classical music.
Performers:
Violin, Peggy Hills
Viola, Doug Perry
Clarinet / Bass Clarinet, Steve Pierre
Cello, John Marshman
Harp, Erica Goodman
Percussion, Richard Moore
Tar, Araz Salek
Kamanche, Saeed Kamjoo
Bam-Tar, Shahin Fayaz
Tombak, Pedram Khavarzamini
Conductor, John Barnum
Narrator, Angela Fusco
---
THE LITTLE MERMAID
The Little Mermaid is based on the familiar Hans Christian Anderson children's stories. The musical score is by Canadian composer, Patrick Cardy who has woven the narrative and the music into a palette of word and sound painting, suspense, and musical colours.
With two narrators (one male one female) the mixed musical ensemble adds considerable drama, especially in the gripping track The Sea Witch. The narration and music are equal partners in the performances, probably creating rejoicing in "the distant realms of heaven", the powerful closing line of this interesting work.
Performers:
Angela Fusco and Alex Baran, narrators
Leslie Allt, flute/piccolo
Peggy Hills, violin
Eileen Keown, piano
John Marshman, cello
Sonia Visante, violin
Douglas Perry, viola
Steve Pierre, clarinet
Richard Moore, percussion
John Barnum, conductor
---
THE SNOW QUEEN
Patrick Cardy also bases the Snow Queen on the familiar Hans Christian Anderson children's story with music. The Snow Queen is scored for string quartet and narrator. Angela Fusco narrates telling the saga of lost little boy, and the little girl who loves him dearly. Her clear diction and amusing character voices highlight her rendering of eternal love to a backdrop of strings.
Performers:
Peggy Hills, violin
Sonia Visante, violin
Douglas Perry, viola
John Marshman cello
Angela Fusco, narrator
---
LET'S SEE WHAT YOU HEAR
String Quartet performs selected emotional classical music while the audience is encouraged to draw/paint with what they hear.
String quartet and Music Therapist
LET'S DANCE WHAT YOU HEAR
String Quartet performs selected emotional classical music while the audience is encouraged to dance or move with what they hear.
String quartet and Music Therapist